Miniature Schanuzer Pepper&Salt

Bandsman DANCE FEVER "Tony"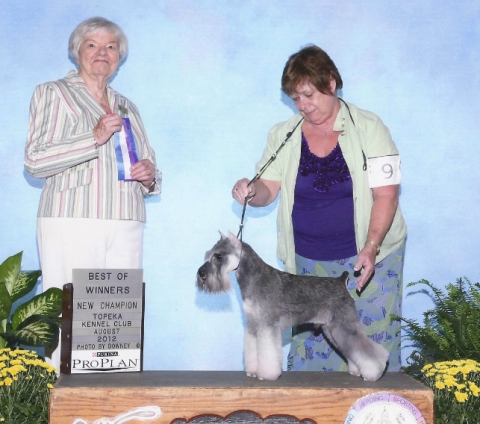 CH. AKC, 2x BIS Junior
CH. SUMERWYND BANSDMAN SUNDANCE
CH. SUMERWYND LYNBROOK TWO STEP
SUMMERWYND CYMRU POP YOUR CORK
JEBCO`S SUMERWYND PAGEANT GIRL
CH.SUMERWYND SUNFLOWER
ATTAWAY SPECIAL EDITION
SUMERWYND SUNESHINE
BANSDMAN UPTOWN GIRL
SUMERWYND STIFF COMPETITION
SUMERWYND ROMEO OF CHAR N CO
SUMERWYND SUNESHINE
CH.BANOSMAN DRESSED TO KILL
ALLWAYS IN STYLE
BANDSMAN`S CAT BALLEW

BLYTHEWOOD JAGGED EDGE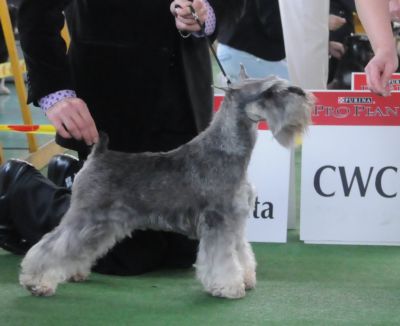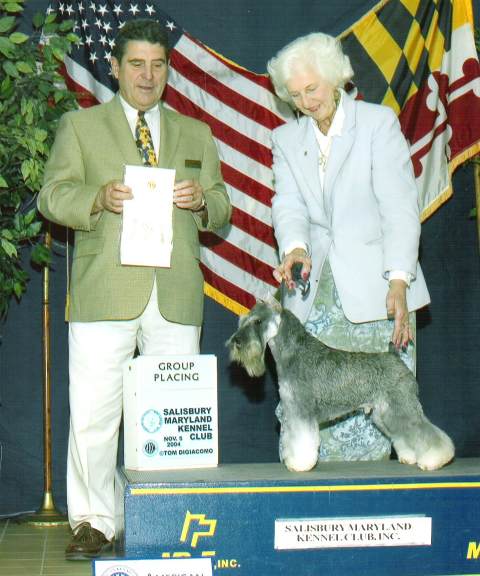 Clubwinner 2009
br. Zwyc BOB & gr.4 WESTMINSTER 2009
Ch.Pl,CLUB WINNER 2009,5xCACIB,
CH PHIL ADORE`S MEDICINE
CH WARDS CREEK`S MEDICINE MAN
CH RAMPAGNE`S REPRESENTATIVE
CH WARDS CREEK PUT`N ON THE RITZ
PHIL ADORES CUTE E CLAIR
CH BLYTHEWOOD SHOOTING SPARKS
CH PHIL ADORES BOSS E BETSY
BLYTHEWOOD
ENCHANTED EVENING
CH BLYTHEWOOD ON CAMERA
CH SUELEN I`M SNO SAINT
BLYTHEWOOD GOOD INTENTIONS
CH BLYTHEWOOD LIGHTING FLASH
CH BLYTHEWOOD LITHING STRIKES
MCINTOSH`S MAGIC SANDCASTLE

International Champion
Polish Junior Champion
Polish Champion
BIS Junior
15 x CWC
2 x CAC
3 x BOG
3 x II BOG
1 x III BOG
10 x CACIB
3 x res.CACIB
14 x BOB
III BIS
IV BIS

BLYTHEWOOD RANGER

Sire of many champions, among other things BIS of Speciality Schnauzer Show and INCH FLASH Majalu.
CH FOLLY'S CIMARRON O'BLYTHEWOOD
CH
DARDANE WAGONMASTER
CH PENLAN CHECKMATE
DARDANE VERITY
CH FOLLY'S SUZY Q
CH BLYTHEWOOD NATIONAL ACCLAIM
CH OLLY'S TIA MARIA
BLYTHEWOOD
LOOK ME OVER
CH BLYTHEWOOD STORM DAMAGE
CH BLYTHEWOOD SHOOTING SPARKS
BLYTHEWOOD BORN TO WIN
CH BLYTHEWOOD TELL IT LIKE IT IS
CH BLYTHEWOOD SHOOTING SPARKS
WYNDWOOD BLYTHEWOOD STARLET

International Champion
USA Champion
Polish Champion
Clubwinner 2002
14 CWC/CAC
6 x CACIB
2 x res.CACIB

BANDSMAN CATAPULT
CH BANDSMAN'S NEWSPRINT
CH JERRYO'S RAIN CHECK
H RAMPAGE'S WACO KID
CH JERRY O'S KISS'N RUN
CH JERRY O'S FUTURE SHOCK
CH JERRY O'S CIRCUIT BREAKER
CH JERRY O'S KISS'N RUN
BANDSMAN'S CAT BALLEW
CH ADMIS STATE-OF-THE-ART
CH RAMPAGE'S EXPRESS MAIL
CH ADMIS CLASS ACT
CH BANDSMAN'S CATCH ME A CAT
CH SUMERWYND BANDSMAN SHOWOFF
CH BANDSMAN'S FREE SPIRIT

Internationale Champion
Polish Champion
res.

Europeanwinner 2003
Clubwinner 2004
8 x CACIB
21 x CWC/CAC

BLYTHEWOOD THE BUCK STOPS HERE

In May '2003 has come to us new minature schnauzer Blythewood the Buck Stops Here; 34 cm, amazing motion and fantastic temperament. Since June he will be shown on polish shows.
CH BLYTHEWOOD ROBERT MITCHUM
CH BLYTHEWOOD ON CMAERA
CH
SUELEN I'M SNO SAINT
BLYTHEWOOD GOOD INTENTIONS
BLYTHEWOOD
PEANUT'S MUNCH
CH FOOLLY'S CIMARRON O'BLYTHEWOOD
BLYTHEWOOD STRING OF PEARLS
BLYTHEWOOD DIVA OF THE OPERA
CH USA ENJOY'S PHANTON OF THE OPERA
ENJOY'S MISTER BO JANGLES
BLACKHEATH'S ENJOYS DAZZLE DD
CH BLYTHEWOOD COLORADO SPARKS
BLYTHEWOOD SHOOTING SPARKS
BLYTHEWOOD THE LEADING LADY